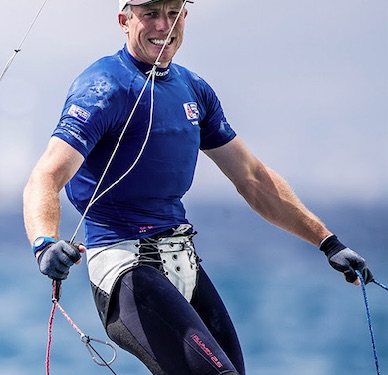 Stu Bithell is one of the nicest blokes you'll find on the Olympic circuit. He's also one of the best. Winner of an Olympic silver medal in the 470 when he raced with Luke Patience at London 2012, he's since moved into the 49er. He missed out on selection for Rio 2016 but has since teamed up with the man who beat him there, Dylan Fletcher.
A year after Rio, this duo dominated everything in the 49er, winning the Worlds, Europeans and quite a bit more besides. But 2018 saw them have a wobble. And then they got the call-up to represent GBR in the new SailGP circuit in 45-knot 50ft foiling catamarans. Would this be a distraction from their aim of qualifying for Tokyo 2020? Well, not to judge by the way they dominated the first round of the European season. Pretty much everyone was there, including the much anticipated return of Olympic Champions and America's Cup heroes Pete Burling and Blair Tuke from New Zealand. But it was the Brits - Dylan and Stu - who won with the Medal Race to spare.
Andy Rice caught up with Stu a few days later, when he just happened to be driving back home from Slough near London, where they've been doing some dryland high-speed sailing. Apologies for the sound quality but still well worth a listen to Stu....
To find out more about what's going on in the sailing world and for some of the best expert advice and go-faster tips available, head over to www.sailjuice.com